Today, we have Laura Burhenn of Saddle Creek Records "The Mynabirds" stopping by to provide her thoughts on life and the creative process. For me, this is a REALLY BIG DEAL.  I have been mesmerized by her voice since I discovered Georgie James a few years ago.  That appreciation for her voice and music deepened with the release of The Mynabirds "What We Lose in the Fire We Gain in the Flood" and today the second album "Generals" is to be released (I'm buying mine at lunch time!).  While these questions don't pertain to the new album in its specifics, it does look at the process of creating not only music, but her creative process in general.   My thanks to Laura for taking the time to answer these questions.  I've included the trailer for the new album and you can find information about Laura and the Mynabirds at the end of the interview!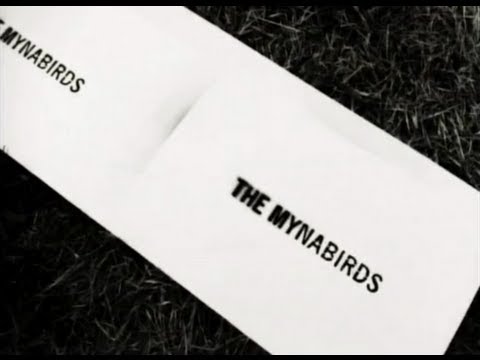 ——-
Without naming it, describe for me your favorite meal.
Mountains of fresh, robust veggies (for some reason I'm craving collard greens at the moment) followed by something sweet and decadent. My perfect meal is full spectrum — it should feel transformative. I want something that comforts, nourishes, cleanses, and then gives a little kick that puts you back on your feet and ready to take on the world. Bring on the after-dinner sweets and caffeine shots!
 Do you believe in Writer's Block? Why or why not.
It's a real thing; I definitely believe in it. But I don't believe in trying to "work on it". The best thing to do with Writer's Block is to walk away from the problem, let your mind wander. I do my best writing in the shower, or on some epic worldwide adventure. I personally need tour to be able to write and record later on. It's all about collecting your thoughts from your experiences as you go.
Do you carry a notebook for sudden ideas or do you write at a set place or time?
I carry a notebook, for sure. I have about a million of them stashed around — near my piano, by my bedside for dreams or lyrics I stumble on in half-sleep, in my kitchen drawer, in my purse, in my car. You never know when an idea will hit you. That said, it can be really good to sit down and make a time to write. I never expect anything to come out of those sessions. It's more like exercise, experimenting, letting the mind wander into new places without shutting it down or telling it no. There really is something to stream of consciousness writing.
I'm inspired by everything around me, truly. Strangers on the street, a good meal with a friend, an article in the newspaper, a documentary, a poem, a long walk in the park with my dog.
My future self isn't afraid of anything, not even death. But my current self is working on not being a ridiculous hypochondriac who: might have gotten Lyme disease shooting a video in the Catskills, won't sell any records, will die in an airplane crash, won't be able to pay my rent — you know, the usual laundry list of human fears. It's a terrible thing to be motivated by fear. And it's a real process to move past that. I'll tell you one thing I'm NOT afraid of though — getting older. I look forward to being eccentric and wearing gaudy jewelry and my hair blue if I want to (I'm gonna go straight for cerulean, though, like I MEAN it) and telling the world exactly what I think because I've earned it.
What's one song that you wish you'd written? What is it that makes you feel this way?
There are a whole lot of smart, socially conscious pop songs I wish I'd written — songs by Michael Jackson, Stevie Wonder, Nina Simone, The Beatles, Neil Young. I stand in awe of a song like John Lennon's "Imagine" — such a simple and pure expression that gives voice to a whole movement of hopeful dreamers yearning for the world to move past all its complexities in politics, religion, war, to a simpler existence. Songwriters who whittle complicated issues down to a simple, memorable melody, put their finger on the zeitgeist of a moment — that's magic.
Do you find the process of songwriting/recording more rewarding or the moment when you hear what was inside you caught on tape?
It's truly rewarding to hear the final version of a song on tape — after knowing how the melody began swirling around in your head, what it sounded like on the demo, all the work you put into experimenting with it in the studio to put it in its perfect-as-possible form. But for me, the most rewarding moment is hearing from someone else what they take from the song, how it means something to them in their own life. That's when I feel like I'm doing something that matters — when it's something that stretches beyond me.
How can your art and music change the world where you live?
That's a good, important, difficult question. A lot of people think artists should just entertain. Shut up and make us dance — leave politics to politicians. But I have hope that art can make a huge difference in our own backyards. We as a people are always looking for someone to give us a voice, to resonate with what we're thinking, who we are, who we want to be in the future. And music and art gives us that outlet. I really think there's something primal about melody — the way it physically vibrates and resonates in our bones and embeds itself in our brains. Literally getting everyone on the same wavelength is powerful in and of itself. And if you tune your musical and artistic wavelength to something positive, it starts to resonate. And it physically manifests itself in the world into positivity all around.
—–
Laura Burhenn is the front person/leader/driving force of the Omaha, Nebraska based group The Mynabirds.  The new album Generals will be released today at finer record stores everywhere, or is available at various online retailers as well.  Follow The Mynabirds on Twitter, Facebook or check out some of their music on MySpace.